1000 Point Club Awarded to Lukas Swidler
On January 8th, 2016 Lukas Swidler, Prospect High School Basketball senior earned his membership in the prestigious 1000 Point Club. He played varsity basketball for the Panthers for all four years of his high school career, beginning in 2013.
Swidler was notified of his membership in the 1000 Point Club by Varsity Head Coach, Michael Furlong during the Senior Night Game on February 12, 2016.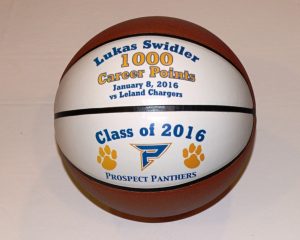 The 1000 point club is awarded after a player has scored more than 1000 points over their high school basketball career.
Lukas Swidler is the third high school basketball player to have been award the 1000 Point Club in the history of Prospect High School. On receiving his award, Lukas was very excited and focused on the game at hand, where he scored 2o points and rebounded 23 times in a close game, ending in a victory (72 to 69) for the Panthers against Willow Glen High School.
Swidler is 6′ 8″ and weighs in at 235 pounds. He plays both Center and Power Forward positions for Prospect High School. His vertical jump is 37 inches with a wing span of 77 inches and standing reach of 99 inches. His average stats this 2015-2016 season is 17 points, 15 rebounds, 3 assists, 1 steal, 2 blocks and 1 dunk per game.
In addition to the 1000 Point Club award, Lukas Swidler has also received the following awards:
Blossom Valley Athletic League All League Selections 2015-2016 Boys Basketball: Senior of the Year & 1st Team All-League
2016 Cal Hi Sports TV "Play of the week"
2016 Cal Hi Sports TV "Player of the week"
2015 Prospect HS Invitational All Tournament Award
2015 Lynbrook Invitational Tournament MVP Award
2015 Westmont Invitational All Tournament Award
2015 Prospect HS Most Outstanding Male Athlete of the Year Award
Prospect HS 2014-2015 Boys Varsity Basketball MVP (most overall points, rebounds and blocks)
2014 Westmont Invitational All Tournament Award
Blossom Valley Athletic League All League Selections 2013-2014 Boys Basketball: Sophomore Of The Year & 2nd Team All-League
2013 Prospect Invitational All-Tournament Award
2013 Lynbrook Invitational All-Tournament Award