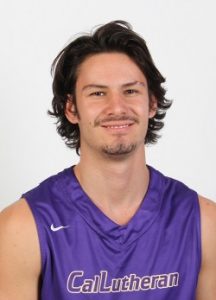 Lukas Swidler, son of Kari Kindem and Thomas Swidler, was born on October 28th 1997 in Los Gatos, California. He has a sister Kirsten.
Lukas is attending and continuing to play basketball at California Lutheran University .
Lukas graduated in June 2016 from Prospect High School. Prior to that he attended Easterbrook Discovery School (honor roll student 3 years in a row) and Bethel Lutheran School.
Lukas joined the Prospect HS Varsity Basketball team as a freshmen in 2012 . Over his basketball career as a captain he made over 1,000 points, won two league championships and was nominated MVP twice.  He received the BVLA league freshmen of the year award in 2013, the sophomore of the year and 2nd team award in 2014, the 1st team award in 2015 and senior of the year and 1st team in 2016.  In 2016 and in 2015 he received Prospect HS Athlete of the Year Award.  As a Junior and Senior he placed in track & field in 100 m, 4 x 100 m, 200 m, 400m, 4 x 400 m, both hurdles, long jump, high jump and shot put. In 2016 he was league champion and held the new school record in pole vault and received the Track & Field MVP award. As a freshmen and sophomore he played Volleyball for Prospect HS and Bay to Bay Volleyball Club. During the HS off-season he plays basketball for Black Ops Basketball & Top Flight Elite Basketball AAU program. Prior to that he played for West San Jose NJB .
Lukas performed in the drum and percussion section at Prospect HS and has performed in the Easterbrook Discovery School (EDS) Band. At EDS he has as part of the band received 2 years in a row the "Music in the Parks Festival" (a district wide event) first place with a highest superior rating. At EDS he performed as Gaston in the musical "Beauty and The Beast"
Lukas, a baptized Lutheran, is member of the Prospect HS Christian Club and Silicon Valley Young Life.
During summer, as much as his basketball schedule allows, Lukas volunteers his time as a counselor at the Almaden Community Center teaching younger kids to play basketball.